Reconstruct Visual Command Center™
The gold standard for as-built digital twins in construction and inspection.
Only Reconstruct's reality mapping engine transforms reality capture data from any device into a single, precise 3D asset—so you can inspect every inch of your project without stepping foot on the job site.
Visualize your project like never before.
Reconstruct's Visual Command Center™ reveals your project both "as-built" and "as-designed," delivering the insights you need to ensure your project is progressing perfectly.

Use any tool—from smartphone to 360 camera to laser scanner to drone—to capture footage of your job site. Then sit back as Reconstruct automatically creates a measurable, 3D digital twin (and corresponding 2D floor plan) of your building or structure that's timestamped, georeferenced, and yours to walk through again and again.

With Reconstruct's powerful features, any stakeholder can instantly evaluate quality of work and monitor progress over time, helping avoid costly rework—even from half a world away.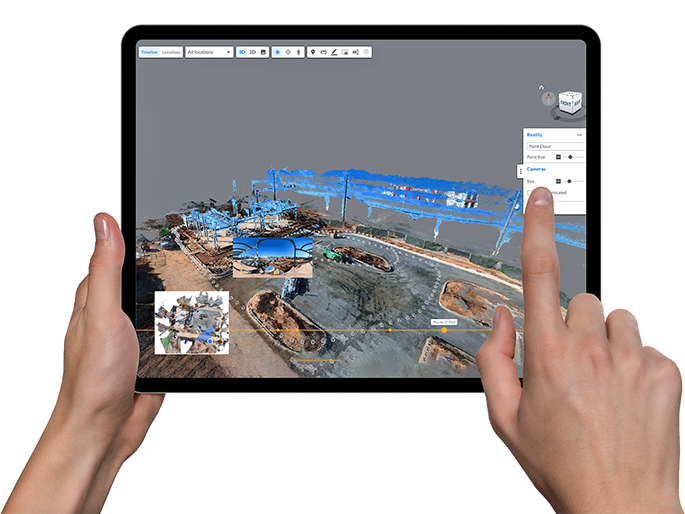 Remotely Measure with Precision
Rapidly, accurately measure your virtual job site from anywhere, anytime.
Overlay Design Against Reality
Compare 2D or 3D designs and plans against your as-built digital twin to spot problems, fast.
Resolve Issues
Immediately
Remotely identify concerns before they become critical, costly mistakes.
Integrate Schedules
Import your schedule, or use 4D BIM to sequence and visualize next steps.
Turn Back Time
Verify what's behind a wall or beneath a floorboard without demolition and rework.
Discover what reality mapping can do for you.
Reconstruct offers true visibility into your job site, helping you generate actionable insights that allow your team to complete construction safely, on time, and on budget. Only Reconstruct…
Enables your on-site team use any reality capture hardware, from smartphone to laser scanner.
Allows you to overlay design drawings and BIM directly atop reality models.
Provides instant, accurate digital measurements of every inch of your project.
Displays what's where on your job site—and what shouldn't be.
Allows you import and export across formats and systems without frustration.
Our Features
Reconstruct is the only reality mapping solution that combines geo-referenced reality capture with design and schedule, offering stakeholders complete project visibility while improving coordination and quality of work.
Our Use Cases
From keeping an eye on job progress to optimizing building operations, there's no shortage of ways to use Reconstruct throughout a building's lifecycle.
Meet the companies that trust Reconstruct.







"Our initial value gain in using Reconstruct was making it more efficient to track work put in place, with the ability to gain direct insight into the cause of delay. We then also saw value in claim dispute and resolution. The integrations with lookahead planning improve communication between trades and show more transparently progress for leaders."
"The integration with Reconstruct has complemented Oracle's platform by providing innovative and advanced progress reporting and risk management for construction projects. Since joining Oracle's global startup program, Reconstruct has delivered significant value to our joint customers and we look forward to a long-term partnership."
"Reconstruct has come up with a product that gives you a ring-side seat to the construction site even if you are miles away, letting you see progress and manage potential risk to the project."
"Leopardo uses Reconstruct as a compelling way to engage with our clients. In just the first few months of using it, we saw measurable improvements."
"Reconstruct helped keep us on schedule by identifying potential schedule task delays before they impact the overall schedule."